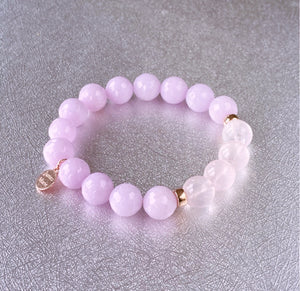 Lavender jade // This gorgeous purple crystal brings tranquility in the middle of a storm. It has been long prized in ancient cultures for its soothing effects on nerves when facing chaotic, unknown or busy situations. It is valued as a protective crystal. Who needs a knight in shining armor when you've got this beauty on your wrist?
Rose Quartz // Spread kindness like confetti with this dusty rose gem. Rose Quartz purifies and open your heart at all levels setting you up to give and receive love freely.  It promotes love and friendship by strengthening empathy, sensitivity and gratitude. This crystal oozes self love and deep inner healing.
A touch of glam with 14k rose gold plated hardware and our signature rose gold plated James Marie tag. 

Standard Size: 7 inches. 10mm Crystals.