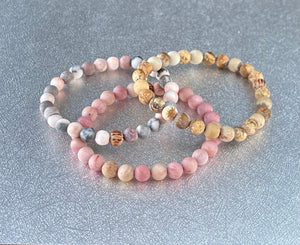 Pink Zebra Jasper // This gorgeous crystal named after its stunning zebra stripes of colour is both nurturing and protective. Not only does this grounding gem have your back, but it also brings with it feelings of contentment and joy. 


Rhodonite // This is your Crystal when you feel like you need that extra boost! This rosy stone is full of energy and helps restore your mental and physical strength when you're feeling depleted. Not only that but it helps attract love while dispelling negative energies of self doubt and self criticism allowing you to Do You. 


Picture Jasper // Get back to your roots with this grounding and harmonizing stone. Great for stacking as it is the ultimate nurturer and pairs well with the energy of all other gemstone. It brings comfort and helps alleviate fears.
Standard Size: 7 inches for Adult. 6 inches for Child. 6mm crystals.

If you're in Regina and would like to pick up your order use code Reginapickup at checkout to wave shipping fee. See FAQ/Shipping for address. :)