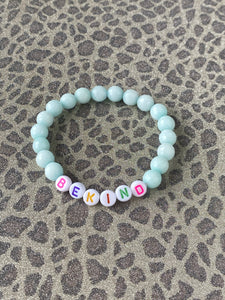 Create your own bracelet with whatever word or name means something to YOU. 
Blue Jade //  Slow and steady wins the race. This icy blue crystal brings patience and a sense of peace. Feeling rushed? This calming blue beauty will help you feel relaxed. Being of the jade family this crystal is said to bring good luck and protect against harm.
Email jamesmariedesign@gmail.com with custom name or word after placing order. :)
Standard Size: 7 inches for Adult. 6 inches for Child. 8mm crystals.

If you're in Regina and would like to pick up your order use code Reginapickup at checkout to wave shipping fee. See FAQ/Shipping for address. :)