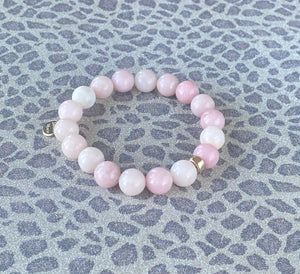 Pink Opal // Closely connected to the heart chakra pink opal is amazing for emotional balance and healing any issues surrounding love. This pale pink crystal opens your heart allowing you to truly see and experience the beauty of life! 
A touch of glam with a 14k gold filled spacer and our signature gold plated James Marie tag. 
Standard Size: 7 inches. 
If you're in Regina and would like to pick up your order use code Reginapickup at checkout to wave shipping fee. See FAQ/Shipping for address. :) 
What does 14k gold filled mean?
Gold-filled is an industry standard that requires 1/20th, or 5% pure gold by weight.  It's a strictly regulated process that involves pressure bonding multiple layers of solid 14k gold with extreme heat over a core of high quality jeweler's brass resulting in a durable, quality real gold product.

What are the gold and silver details made of?

All gold and silver detailing are made by the process of plating. Gold or silver plating is a method of depositing a thin layer of gold or silver onto the surface of another metal, most often copper or brass. 
Over time and these metals may tarnish and show signs of patina. This isn't an imperfection, but merely lends itself to the vintage vibe we love! 
How should I care for my James Marie Bracelets?
Maintain your jewelry's integrity by avoiding contact with hair products, lotions, sunscreen, makeup, perfumes, soaps, and cleaning products.
Always remove your jewelry prior to washing your hands, applying any body products, cleaning, working out or swimming.
Bracelets should be treated gently and with care. Never overstretch the elastic band (over your hand is okay).